Welcome to Blakeney Boutique Cottages, Blakeney, Norfolk.
We still have availability for August 2023. We very much look forward to seeing all our regular and new guests alike. If the dates are not bookable online please email me and we can take a look for you! Please also let me know if you are interested in a shorter stay than appears on the website.
We are very proud to have had Benbow Cottage and Ship Cottage pictured in the Sunday Times 'Bolthole Stampede' article 7 Feb 2021
Blakeney Boutique Cottages provides luxury holiday accommodation for the discerning guest who is looking for comfort in a tasteful, relaxing environment in the quaint coastal town of Blakeney on the North Norfolk coast. Being a family run business for over 15 years, with all three cottages owned by the family, we ensure you have everything you need to make your stay as personal and special as possible. As all three cottages are a few steps from the quay and in the same courtyard, all three cottages can either be booked separately (sleeping 8, 6 and 4 guests) or altogether to accommodate 18 people. Dogs are welcome.

We are proud that Benbow Cottage has been awarded a 4 star VisitEngland AA rating every year since 2013. In recognition for high achievement and exceptional quality, we are also delighted to have been awarded a Gold Award every year since 2013.  Ship Cottage and Stable Cottage are not assessed by VisitEngland AA but are decorated and managed to the same exceptional standard.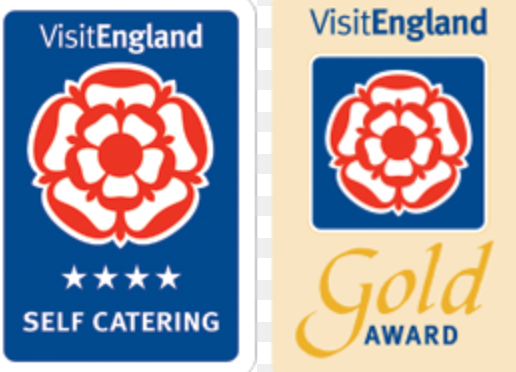 Please make your booking online:
Please email me to make a booking if you cannot find what you are looking for. Many thanks.
We welcome any enquiries you may have and thank you in advance for your custom.
 We have been featured in The Sunday Telegraph 'Stella' Magazine by well known journalist Lucy Cavendish on 28th July and 4th August 2013. We were also featured on Lucy's personal website.
Benbow Cottage also features in the book called 'The Glaven Ports - People and Places' by John Warham, Judith Paxton and Liz Shand Kendall. Published April 2014.
Benbow Cottage featured as one of Superluxe's ten favourite coastal retreats to stay in the UK&I 'A Great British Staycation'.
Situated in the charming seaside town of Blakeney on the north Norfolk coast, and only a minute from the quay, the cottages have been meticulously restored to a very high standard. Many original features have been retained in keeping with the charming character of Blakeney, whilst offering a modern, contemporary, yet romantic environment in which to relax.
Care has been taken to ensure every need is catered for so that your stay is as special as you are. Top quality linen and towels are provided, as are luxury toiletries. On arrival you will find basic essentials such as milk, tea, coffee, Tassimo coffee pods and a bottle of wine to settle in with. We also provide a welcome pack from the Blakeney Deli which includes wonderful crusty bread, butter, local jam and cheese. We also provide local apple juice when available. Firewood, kindling and fire lighters are supplied for the wood burners between October and March.

Being dog friendly, well behaved pets are welcome!
As you can see below, we try to give our guests the best holiday experience.
"What an amazing location, stylish cottage and superbly COVID-19 compliant approach but made special by the personal touches and local produce on arrival. Special place and lovely relaxing cottage. Perfect for a family escaping from work to relax"
"Just wanted to say what a pleasure it was stopping in your cottage. It was well equipped and tastefully furnished with a comfy bed and good shower. Also we welcomed the outdoor space which is such a rarity in Blakeney especially having the dogs. The dine in experience was brilliant and couldn't stop recommending it to anyone we met (also plugging the cottage in the same breath!)."

"Great cottage. Beautifully presented, immaculate and everything you need. Love the decor and pictures, and love the book. Have been coming here (to Blakeney) for 10 years and this cottage is equally the best we have stayed at. Great position."

"A lovely cottage for a hen weekend. Superb venue. Thank you so much".

"Thank you SO much for an amazing weekend! Great place, lovely people, we will be back!"

"Beautiful everything!"

"What a beautiful cottage! We had a lovely stay - everything that you needed, especially the bottle of wine after a long drive! Thank you xxx"

"We rented Benbow Cottage at short notice (for the weekend) to extend a cold week into a sunny weekend. What a good decision! The weekend was sunny and the cottage was excellent"
Please enjoy browsing the website and feel free to contact me if you have any questions and I would be delighted to assist.
Thank you and we look forward to hearing from you.
Contact details:

nicki@blakeneyboutiquecottages.com